BIG PICTURE
Flows are better than forms
Create impact using more personalized experiences creating less friction to enable higher conversion rates. Layer on top live performance data within the builder to quickly optimize the performance.
BIG PICTURE
Take people on a personalized journey using storytelling to inspire engagement
Asking for information isn't enough anymore. People need to justify why they share things with you. Upflowy gives you everything you need to build a story worth engaging in, with only a few clicks. Easily add imagery, video, animation to your signup flow and customize it all to your branding.
How do we help achieve sales & conversion goals?
We fix the leaks in the conversion funnel, getting more people towards the goal you are looking to achieve. Done through the ability to easily take people on a journey with storytelling and very easily allowing you to optimize each step.
Upflowy analyses behavior during the signup process to unearth the friction points
By aggregating results to show you what most users struggle with, our system allows you to easily create testing and analytics pipelines to create multiple signup processes to test on your audience at random, which we call flows.

Pull all the data to highlight where users drop. Partner this with our experimentation and analytics, you'll be creating multiple signup flows to better test on your audience. Feel the power of the signup flow, with Upflowy.
We help you understand which signup process works optimally for a range of customer types, so you can switch signup strategy on a user-by-user basis
Why do only 36% of visitors with intent to signup for your product actually follow through?
From single block signup pages with scary questions to user interface issues, the reasons are many. Unfortunately most companies do not have the resources to experiment and iterate.
Upflowy offers an end to end solution to build and iterate on your flows at no IT cost.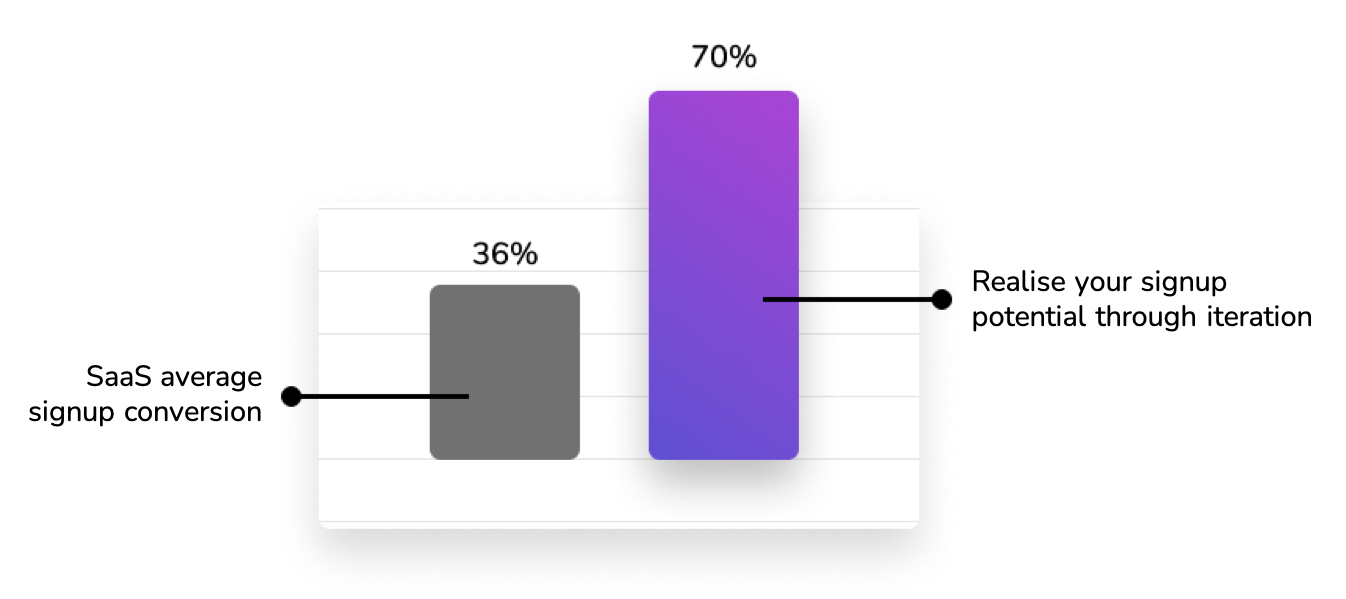 ITERATE
Create signup experiences with exceptional conversion rates.
Upflowy enables you to learn from each conversion, no matter the volume coming through.
Iteration is the key to success and we make it so easy, anyone in the team can create experiments. Test the messaging, imagery, fields, anything you like to maximize the performance.
From capturing your leads to onboarding new customers and even gathering feedback from your current clients. Upflowy is here to help capture the information you need about the clients you love.
IMPROVE
We believe in continuous learning and improving
Not only in the work we do, but in our daily lives. We have a deep and mutual respect for each individual's journey, we like to keep things simple and we do no harm. Growing a little each day.
Upflowy was founded in 2020 and was built during a time when a challenge turned into an opportunity. When our Co-Founder Guillaume Ang saw an opportunity for a product that would help a lot of Founders, Marketers and Entrepreneurs.
All the features you need.
Choose from 8 building blocks to customise the content in a way that works for you. Headings, text, paragraphs, links and more.
We support images, animations, videos, maps and so much more. The possibilities are only limited only by your creativity
Personalisation is everything, dynamically direct visitors based on their input and collect relevant information.
Any input field you want including pre-built name splits and phone with graphical country code selection and validation.
Create detailed and bespoke flows for unique customers, while still maintaining the flow option of bringing back to the same final destination.
Get your flows started with an active trigger on your website, whether that be a button click or a form submission.
Experiment with new copy, new images and new assets to better optimise your flows.
Just drop a line of code then you can choose the link, button or css element to activate the flow to appear over the top of the website.
Signup Experiences

Customer On-boarding

Lead Forms

Contact Form

Surveys

Plus More
Improve retention with a better introduction
Do you have clients who are signing up for your service? Think Monday.com or Clickup. They use a signup flow to onboard their customers to the platform. Replicate the best customer onboarding experiences using Upflowy.
Personalize the journey and leave a lasting impression
Signed a new client? Make that experience incredible through storytelling instead of data collection. Take them on a journey to find out about the requirements for the job and save your team some time.
Don't waste valuable marketing spend
Are building a waitlist? Trying to build interest and a follower base for your product or service? The right lead form sets expectations, informs and maintains interest while ensuring that proper data is collected.
Improve conversion rate alongside collecting more information
Do you expect feedback or communication from your users or visitors? Create a bespoke form to better help them express their needs or responses. Make their time feel worth it with our customizable form elements and dynamic content.
Collect key customer feedback using a smart flow
Find out what your customers/employees love or don't love. Use smart logic to redirect promoters to various public review sites. NPS, CSAT or any custom framework you choose for feedback.
From sales qualification, growth marketing to customer support
We have built a flexible framework so the options are only limited by your creativity, we have customers using this tool for almost anything from Instagram bio link trees to links within emails taking customers through product selection.
TESTIMONIALS
What people are saying...
"Upflowy seems to perfectly fill the glaring gap left by the incumbents."
"It's incredible to see progress the team have made building a platform that solve real world problems businesses run into everyday.
Setup an easy to use demo flow that can be changed and optimised without the cost and burden to the IT team. Click on "Book a Demo" on the website.

Upflowy's has helped streamline Steam Engine's selective application process. Upflowy's differentiated outcome technology in the diagnostic form has helped review and elect better companies.
What is a signup flow?
A signup flow is the first interaction a new user has with your company, in the journey of signing up to your service or creating an account. It is a way for you to capture more information about your customers or potential customers. It is a way for you to capture leads and the data they provide at the same time! Learn more about what a signup flow is and how it can help your business in the lead and customer journey. Read the blog >>>
Why do I need a signup flow?
The purpose of a signup flow ranges from capturing your leads, onboarding new customers, to gathering feedback from your current clients. Upflowy is here to help capture the information you need. Learn more about the solutions of a signup flow here.
How is a signup flow different from a form?
A signup form is used to collate based information about your audience. A signup flow is here to generate more insights and data from those going through the process. A flow can also be used for multiple solutions including feedback, on-boarding and engagement (just to name a few).
Does it integrate with my website?
Yes, you're only a single line of code away from complete integration. You can also link to a unique URL for your flow hosted on our servers. Upflowy is a platform that will integrate perfectly with your website with just a line of code added. This is the hardest tech stuff you have to do - and we will show you how to do it!
Can anyone use the signup flow software?
Sure can! The Upflowy system is easy to use. It is software used to build your signup flow that is just as easy to use as creating a presentation in Google Slides.
Do I need my IT team to set it up?
Nope, that is the beauty of it. Our no-code product means just that. You don't need code to set it up with your website. So no IT team required! You can connect it with your favorite app via Zapier in a few clicks but we also give access to the API endpoints if you are that way inclined.
NET POSITIVE
Discover best practices for your signup flows.
Expert's Corner
Our resident expert Guillaume Ang dives deep into the topics that startups, marketers, product managers and developers face everyday.
Flow State
See in-depth video reviews of the signup flows of prominent businesses and how they approach the signup flow.
Net Positive Podcast
Explore interviews with industry leaders in product and marketing. The podcast sought to get to the bottom of optimizing your funnels, building the right experience and leading with your product.
Best practices for your signup flows
Learn from Guillaume Ang, our resident expert as he dives into detail about the customer journey. His insights have covered the startup world, the hiring process, pitching, new KPIs, and how best to utilize a signup flow!
Get the latest conversion tips
Subscribe to our fortnightly newsletter packed full of conversion rate optimisation tips, industry news and latest features we are rolling out with Upflowy.