Net Positive Growth
Net Positive Growth – Lydia Huang
Lydia Huang is driven to live a life free of regret, and to trust in the power of her own voice. She started her own business, Awaken Career.
---
Lydia Huang is the Founder of Awaken Career, a career consulting business dedicated to providing personalised job search strategies for marketing job seekers to awaken their power and land their dream jobs. Lydia has some top tier experience in the recruitment industry having worked at Amazon, Redfin, and most recently The Pokémon Company International! Lydia wants to become a thought leader, and use her influence and power to create meaningful change in the community. Taking the leap to start her own business, Lydia is driven to live a life free of regret, and to trust in the power of her own voice.
Growth Moment:
The growth journey that Lydia underwent through her recruitment career was constantly filled with moments of growth. A memorable moment was beginning her job search journey without any relevant experience, the fear was so prevalent. Within 3 months of having quit her full-time position in sales, she was given the opportunity to work in a contracted role at Amazon. The job was high stress and pushed her, but it established her confidence and built really strength.
A return to the job search. Redfin entered the picture. Again, Lydia was on a contract role, but was making considerable headway, moving up to Recruiter. Her work ethic and skillset were impressing the right people.
Lydia was then tasked with the market of Hawaii, which didn't have a well established corporate culture, and did already have an established real estate foundation. A historically difficult place to find talent. Despite the context, she had sourced a record amount of potential candidates for the roles she was tasked to fill. Her networking abilities really paid off.
The contract did sadly end, but she was still regularly networking. Lydia just didn't stop networking and reaching out to professionals on Linkedin. She eventually got a chance to meet someone from Pokemon and this led her to another contract position, for 12 months. After a few months at Pokemon, they offered her a full time role. Her persistence, her consistency, her constant effort and work ethic were finally recognised! She built resilience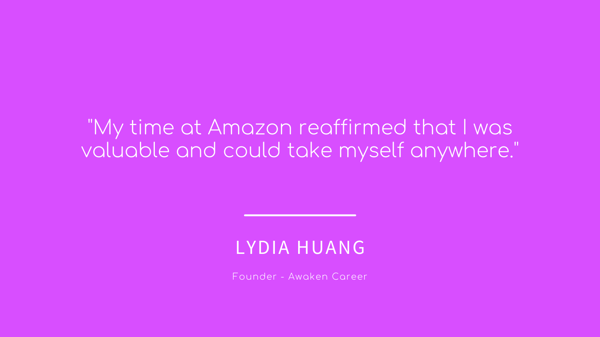 Work Style/Affects:
Her career has definitely influenced her work ethic and how she presents herself within the workplace. Originally, in her sales-based roles she fitted the archetype of the "nice girl". She struggled to say no and was operating in a very male-dominated industry.
She sought to improve, over time she became better at managing demands. She also found her voice, and the ability to work on and focus on things that she believed in. The belief was the key. Her faith in herself rarely wavered, even when some people in her life told her she wasn't up to the career change to recruitment. When looking back, she's appreciative of the struggles and doubts, they forged her into the person that she is today. Without her self-belief she would not have dedicated time to networking and sharpening her skillset.
That would've never opened the door to Pokemon or created the relationships that lay the foundation for her incredible network. Her experiences pushed her to become a better recruiter, she was far better able to be the bridge between a company and the talent pool. She had endured it all and was ready to make a difference.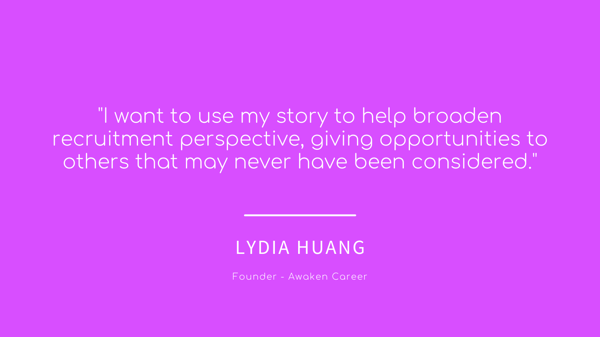 Self Reflection: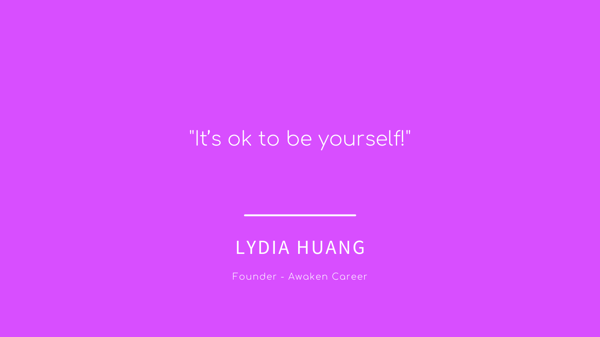 It is easier said than done. Lydia still has moments of fear, those never disappear. She found that the more exposure you have, the better you'll be. Lydia has come a long way and can see the difference in her relationship and attitude toward fear. Facing the fear was essential as she would be dealing with plenty of executives (Directors or VPs) as a recruiter. This gave her a chance to really hone her communications skills, a skill set she had thought was possessed by everyone.

When she considered her own background, she valued her diversity. As a recruiter, it was an incredible way to build a relationship. She has a strong history of travel and was always happy to meet new people. Lydia creates connections where maybe not everyone can. She can connect with more candidates, and connect genuinely. They will be more than happy to share their concerns, like if a company doesn't have a strong sense of diversity within their employees. Her identity is her greatest asset, using her unique voice to build trust and relationships.
Learning from the Low:
The biggest takeaway from her job search experience was to: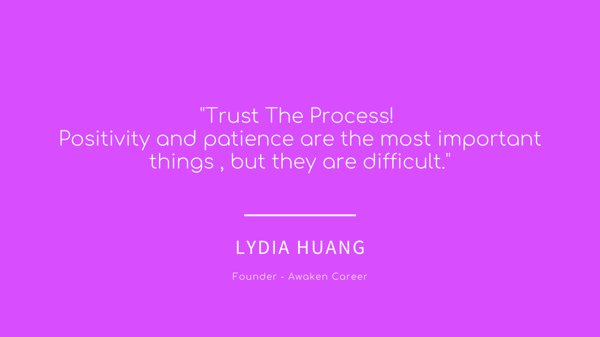 Pre-Covid and living in Seattle, her job search would involve 2-3 informational interviews or phone calls per day, and then spending the evenings at networking events. Lydia was constantly catching the bus between suburbs. When one is making that much effort, it's hard to stay motivated when you're not seeing results. Lydia as always, persisted. This consistency was eventually rewarded.

Her career journey toward recruitment was obvious to her, as she wanted to make an impact on people. She wanted to help connect people with their dream jobs. Unfortunately, she was only really able to help people when it coincided with the company's wishes. This led to Lydia having the idea for her consulting business Awaken Career and taking the leap of faith to serve the purpose of helping individuals. The risk and fear was there, but the fear of regret was far harder to deal with.
Support Network
Lydia is so grateful and thankful for her support network. She's a big believer in family coming first. In her job search periods, they were the ones pushing her to do everything she could. When she would run into any problems, they often helped and reminded her to keep focused on the positive things.
Having a positive network is important. You should always surround yourself with positive and inspiring people. Within the journey, you will likely encounter people who are negative and tell you it won't happen. Lydia sought out the people telling her to keep going, to add them to her network, and make genuine friendships. The process was made easier by those connections.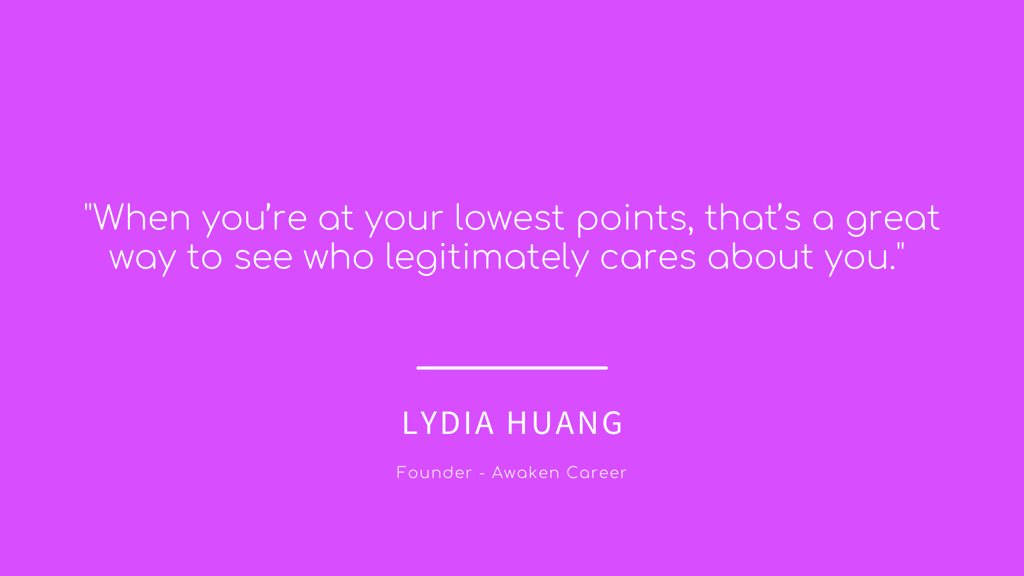 Building a foundation:
Within the role of a recruiter, Lydia has established plenty of genuine relationships. Her foundation of building relationships always came down to asking the right questions. Lydia believes that in any role, the right questions will lead to success. As teams, people need to communicate more, listen more, and that should lead to a quality outcome for both parties.

In the recruitment industry, there is often high pressure to fill a role under a strict timeline. As a result of this pressure, there can be cases of people being hurried into jobs. For Lydia, she never wanted to hurry anyone she believed wasn't ready. Lydia often stood her ground, asked more questions to really ensure that the position was filled with a worthwhile candidate. One method that she found to be incredibly successful, was the creation of a persona to fill a role, rather than just a list of qualifications. This helps to manage expectations and really find the right person.

After making a real impact at Pokémon, Lydia felt that she was finally ready to take on her business venture. Her decision was supported by one of the VP's at Pokemon who she had a long conversation about following one's career passion. They reinforced that many people are too afraid to follow their passion.

After hearing the news she was leaving Pokémon, many people at the organisation got in contact to congratulate her, the recurring theme was the strong impact she made at the company. Interview opportunities also came through from Tik Tok and Google, which definitely made it harder to start the company, but she had made up her mind and committed to the new challenges.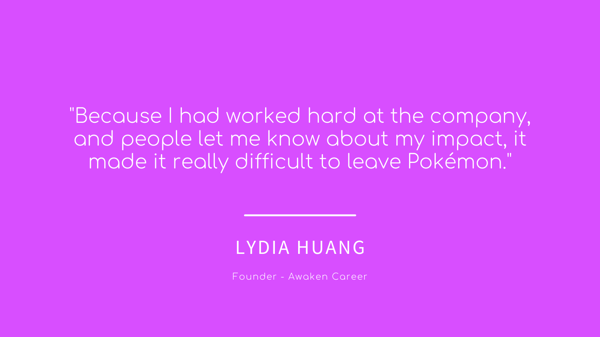 Future Goals
With the creation of her company Awaken Career, Lydia feels empowered that she can make a genuine impact on the world. Instead of having to focus on an individual company, she can help many people in achieving their career ambitions.

Lydia's goal is to use her skillset and talents in the service of others. She believes that many leaders struggle with power and influence. Lydia's networking on LinkedIn is an effort to broadcast a method of using influence for good. To use a platform to raise quality voices for the betterment of the entire group.
Through LinkedIn, Lydia can create content that people resonate with, further build her credibility on the platform, and be consistent with her unique voice. The end goal is to gain trust, be responsible, and do good things.
Managing a balance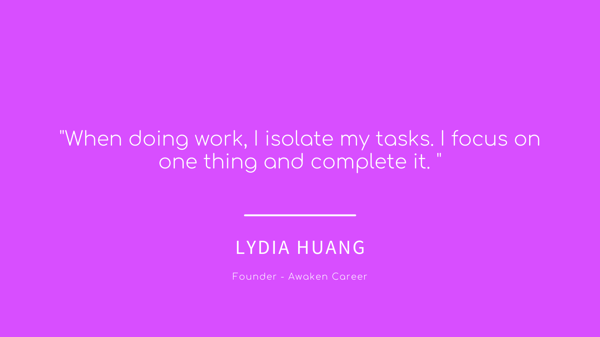 In order to maintain a quality balance between life and work, Lydia has always ensured that her weekends are her own. No matter what email comes through, no matter the situation, her weekend is her time. Lydia is not a fan of the culture where people skip lunch or work really long hours to impress their higher-ups. She had seen the negative impacts of a toxic working environment, where people were burning out. Working more hours doesn't necessarily mean that those hours are still productive.

Lydia really values the opportunities for breaks, to recharge and reset herself. In her new role as a founder, she is finding it more difficult to manage that balance, or set that boundary. Her career goal isn't to become a millionaire, Lydia wants to positively impact people, and she won't be at her best if she's overloading herself and burning out.
Lydia's Key Learnings.
When asked about advice for those wanting to follow their dreams, Lydia remarked that no one can tell you when the time is right. Fear will be a constant, the little voice in your head will protest and say no. The best way to approach the situation is to look at your context, and question what is going on around you. Many people will ignore this contextual information. They will just accept the status quo. Those same people will then complain when they find themselves in a rut. Complaining is a warning sign that you need to pay attention to. If you're complaining about your job, your role, your company. Look deeper into that, see where it's coming from and you may find your answer.
What does the future hold:
One key challenge that Lydia is currently looking to correct is her goal-oriented nature. She wants to see immediate results. As an entrepreneur that isn't always possible. Lydia is reminded of her job search advice, to trust the process. A key idea that she has returned to many times is: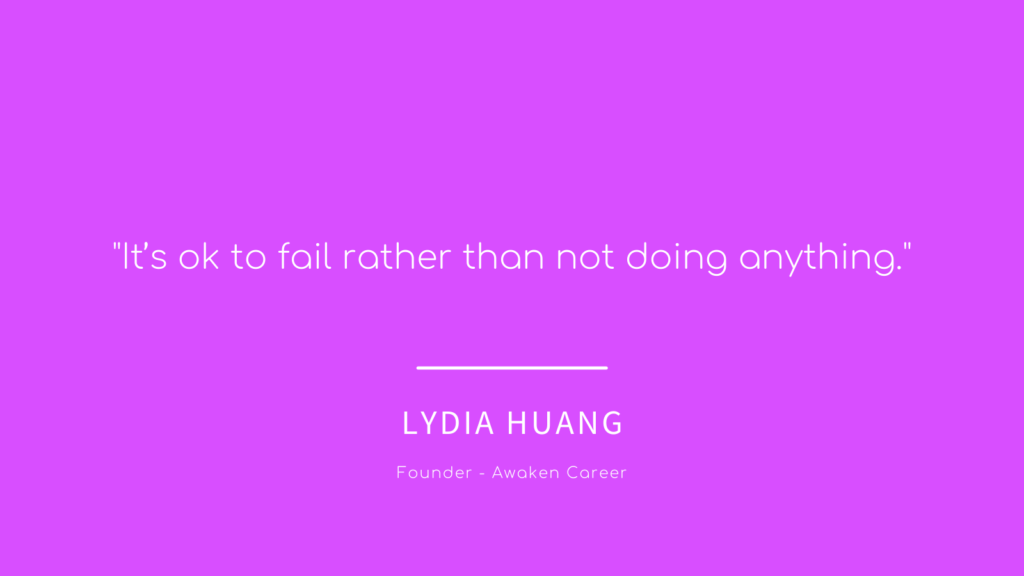 In the future, as an entrepreneur, Lydia will need to be comfortable being uncomfortable. This may even be magnified when looking at her previous roles. In the past many companies were reaching out to hear, it was easy and definitely comfortable. The reality now and in the future is that she will have to reach out. Lydia will be representing her own brand.

Her goals in the future will be to properly voice how proud she is of her identity. Lydia wants to inspire others with her story, being a woman, being Asian, and being an immigrant. She wants to highlight these elements of her identity as an advantage.
The journey of Lydia has been founded on consistency, relationship building, and a strong desire to pursue her career goals. Lydia has been driven to live a life that is free from regret and to trust in the power of herself, her identity, and her voice.
If you're looking to broadcast your company's identity with greater effect, and to really offer your customers a brilliant marketing experience, Upflowy is here to help.