SOLUTIONS
One tool with limitless potential
Upflowy isn't just here for one reason. There are dozens of use cases for our product to help improve processes across all areas of business. Let us explain this further…
Signup Experiences

Customer On-boarding

Lead Forms

Contact forms

Surveys

Plus more
Improve retention with a better introduction
Do you have clients who are signing up for your service? Think Monday.com or Clickup. They use a sign up flow to onboard their customers to the platform. Replicate the best customer onboarding experiences using Upflowy.
Personalize the journey and leave a lasting impression
Signed a new client? Make that experience incredible through storytelling instead of data collection. Take them on a journey to find out about the requirements for the job and save your team some time.
Don't waste valuable marketing spend
Are building a waitlist? Trying to build interest and a follower base for your product or service? The right lead form sets expectations, informs and maintains interest while ensuring that proper data is collected.
Improve conversion rate alongside collecting more information
Do you expect feedback or communication from your users or visitors? Create a bespoke form to better help them express their needs or responses. Make their time feel worth it with our customizable form elements and dynamic content.
Collect key customer feedback using a smart flow
Find out what your customers/employees love or don't love. Use smart logic to redirect promoters to various public review sites. NPS, CSAT or any custom framework you choose for feedback.
From sales qualification, growth marketing to customer support
We have built a flexible framework so the options are only limited by your creativity, we have customers using this tool for almost anything from Instagram bio link trees to links within emails taking customers through product selection.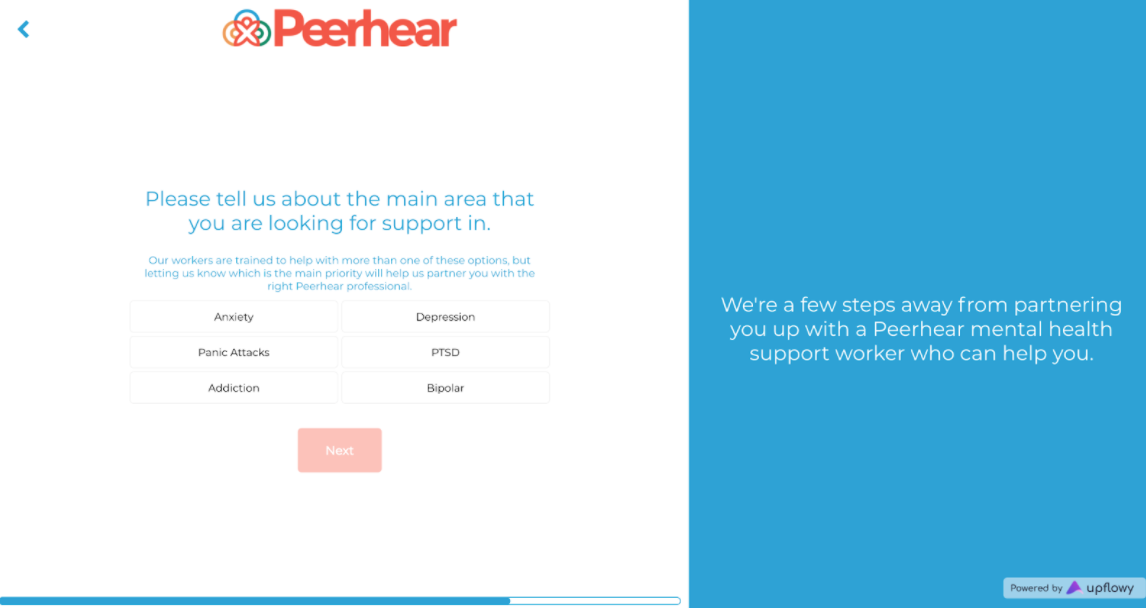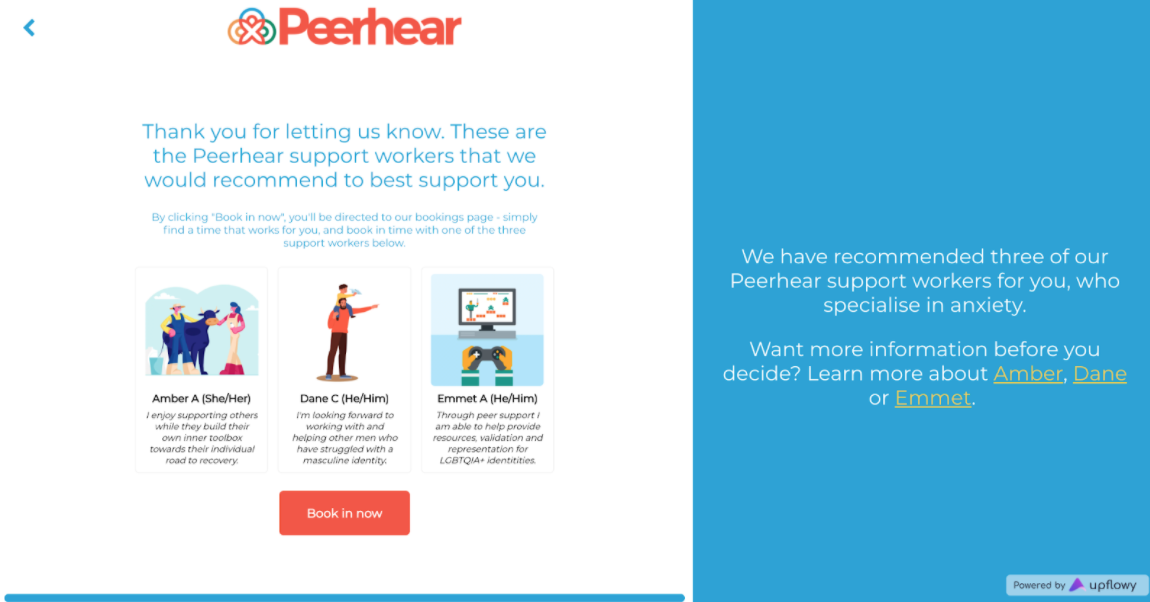 Case Study

Context:
Peerhear used Upflowy to drive lead generation and booking in appointments
Solution:
Upflowy segmented the leads coming to their website, when a high-quality lead was identified they were directed to book an appointment with a Peerhear professional.
Result:
Peerhear experienced a notable rise in high-quality leads, although noticed that drop-off was most prevalent for this group. Our step-by-step analytics allowed Peerhear to discover many users were arriving at the bookings page but not booking.
Customers were experiencing choice paralysis at the booking page. Peerhear re-iterated their flow and developed a questionnaire to better direct them to a specific Peerhear professional.
" I was able to put together a basic flow together in a couple of days which made the decision to use Upflowy very easy.

So instead of having to rebuild my site and work out a way to sync it with an analytics campaign, Upflowy takes care of all of that. That's what the sweetener was - having an inbuilt analytics platform within the tool so I can see where my users are going or not going, is incredibly helpful. I haven't touched the sides in terms of its capability as yet so looking forward to seeing how it improves the UI/UX in the future."
Peter Burge CEO
Peerhear Mental Health
"The most powerful person in the world is the storyteller."
— Steve Jobs
Steam Engine
Upflowy's has helped streamline Steam Engine's selective application process. Upflowy's differentiated outcome technology in the diagnostic form has helped review and elect better companies.
The recipe to success
has 3 constants
Experiential
journeys
Personalized
to each persona
Optimized
through constant iteration
SOLUTIONS USED BY GLOBAL LEADERS
Optimizing flows isn't reserved for the top 1% of businesses anymore
SOLUTIONS
Framework Supplied
Build
Customize our best in class flow templates or build your own whilst matching your brand using our theme editor.
Integrate
You're only a single line of code away from complete integration.
Iterate
Conduct ongoing experiments and A/B tests to optimize your flow, receive insights on how to improve and convert more prospects.
Get started today for FREE