Simple pricing to fast track your customer growth
Upflowy has you covered at any scale. Explore our flexible options below and start to build and A/B test high-performing signup experiences within just a few minutes! Not sure what package is best for you? Let's chat.
* All prices in US Dollars. All
prices are exclusive of taxes
Add even more flexibility with additional tasks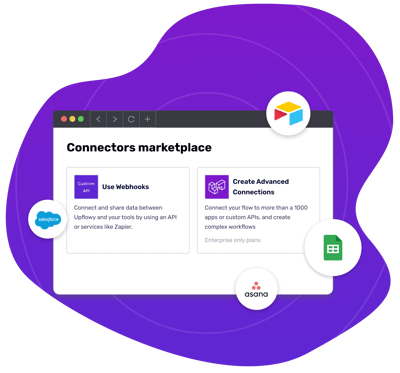 Send data from your forms to 1000+ apps
Our advanced connectors solution makes it a breeze to send and process data from your forms to more than 1000 applications. Each action of sending or processing data counts as 1 task. All our plans come with 500 external data tasks.
Some use cases from our customers:
Create a new record in your CRM for each submission
Notify your team on Slack or Microsoft Teams
Generate a quote for each new lead
Personalize your flow by pulling in existing customer data
Learn more
1 000 Tasks
Ideal for small businesses or startups collecting leads or interest
$15
/m
---
5 000 Tasks
Suitable for growing businesses with reasonable online exposure
$65
/m
---
10 000 Tasks
Geared towards mid-sized companies managing multiple forms
$100
/m
---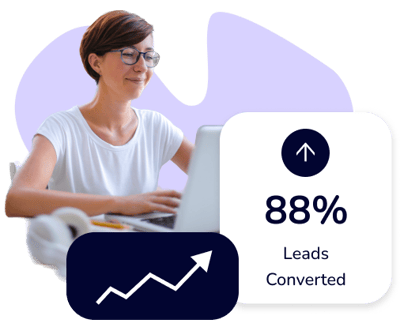 Are you part of an agency?
We can tailor any plan to suit your needs. Deliver outstanding signup performance to your customers while you focus on their digital strategy.
Reach out for more details.
Get in touch

99.9% uptime guarantee

Accessibility + data compliance (WCAG + HIPPA)

Data security (PCI)
Need help getting started?
We're here to help!
Book a free demo. One of our conversion experts will go through your needs and recommend the right solution and plan. We look forward to learning from you too.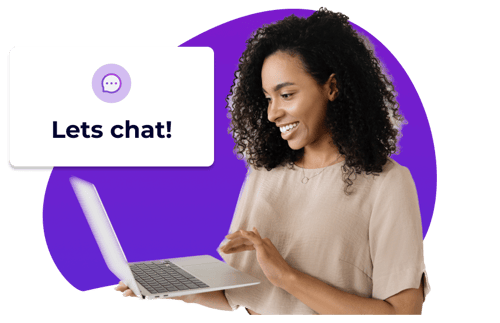 Dynamic content
Be personable and address people by their first name. Feed in information collected to personalize the experience.

Conditional logic
Personalization is everything, dynamically direct visitors based on their input and collect relevant information.

Triggers
Start your flow with a trigger on your website, whether that be a button click or a form submission.

Automatically optimized for mobile
Everything you build has been already optimized for mobile automatically so you don't have to worry.

Accept URL parameters & collect form data
Pass data through URL strings and form fields from your existing infrastructure such as UTMs and personalize the flow based on this.

Easy data export
Export data anytime with easy data collection options. Upflowy stores all your data even if not set up with an API or CRM, available for export as a CSV file.

A/B testing
Experiment with new copy, new images, and new assets to better optimize your flows.

Reporting in flow view
See your analytics over the top of your flow at a glance and get insights on performance to make adjustments.

Custom HTML code
Embed any content you want, just drop in the code snippet.

Graphics/Asset blocks
We support images, animations, videos, maps and so much more. The possibilities are only limited only by your creativity.

Templates
Hit the ground running with custom templates for specific use cases you can hit the ground running and easily see the possibilities of the platform.

Website embed
Just drop a line of code then you can choose the link, button or css element to activate the flow to appear over the top of the website.
Create your first flow in just five minutes